Best Shopify App for SEO to Boost Your Rankings​
Avoid wasting numerous hours on manual optimization of your Shopify store. Here's the most cost-effective ecommerce SEO solution you need! Use our all-in-one automated SEO software to yield spikes in organic traffic easily!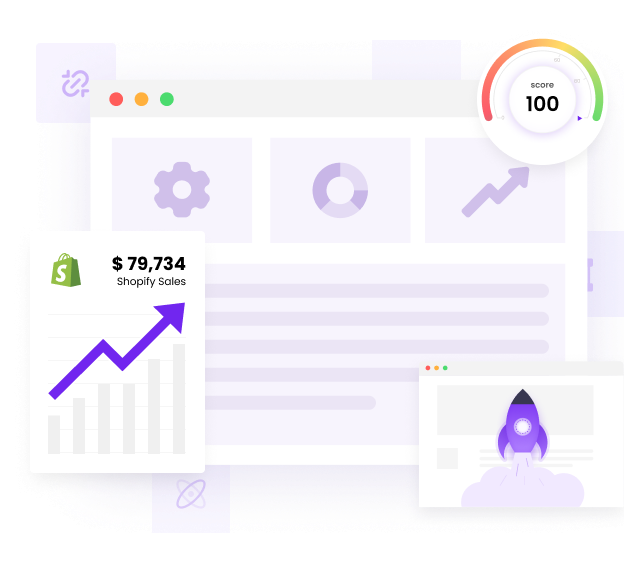 Why is

SEOAnt

the best choice for Shopify SEO?
Leverage our comprehensive solution to enhance your website visibility. Let potential customers find you easily!
What can SEOAnt do for you?

Thoroughly scan your Shopify store and check whether all SEO elements work well. Discover what can be improved easily so that you can fix basic errors accordingly.

Resize images automatically in one go while keeping the quality. Instantly improve your website speed and reduce bounce rates arising from slow loading.

Improve your efficiency in creating and changing meta titles and descriptions. Make your content more accessible to search engines for higher rankings and CTR.  

Add image Alt texts in bulk
Describe what your images are showing efficiently to search engine crawlers to enhance accessibility, improve user experience and even drive traffic with images.

Fix 404 errors/
broken links
Easily find broken links and use 301 redirects to prevent them from adversely impacting user experience, which is an essential SEO ranking factor.

Add structured data to HTML codes instantly so that your web pages will be preferred by Google crawlers and given preferential treatment.

Create super-fast pages optimized for mobile shoppers with just one click. This is especially useful when you rely on traffic from mobile devices.

Build a perfect backlink profile easily. Discover thousands of link-building prospects in no time and send backlink outreach messages efficiently.

Save hours on keyword research! Get a list of the right keywords and set about creating high-quality content to attract your target audience right away.

Prevent certain pages, such as pages with duplicate and think content, from being indexed so that they won't be accessed via search queries.

Easily find and add the nofollow attribute to links existing in your store. Avoid the link juice flowing onto low-value pages or other websites.

Discover valuable keywords that your competitors rank for in seconds to guide your content marketing strategy and narrow the content gap easily.
The must-have

profit-optimizing

marketing tool
SEO is the optimal long-term marketing strategy that promises exponential growth on a budget. Just focus on what matters to your sales, and let us do the tedious SEO work for you. Sit back and see your website gain traction and your investments in SEO pay off.
5x       
Increase in website traffic and sales
85%    Time- and cost-saving feedback
30      Seconds needed to get started
Frequently
asked questions
SEOAnt has a free plan which allows you to run our SEO checker, compress images, identify broken links, optimize keywords, exchange backlinks and bulk edit image alt text easily. You can access advanced features by choosing our flexible paid plans to further improve the SEO performance of your Shopify store. 
Can I get higher website rankings after using SEOAnt?
You will likely get higher rankings, but the results are not guaranteed. 90% of our users have found increases in search rankings of their Shopify stores after using SEOAnt. Honestly, SEO is a long-term game that takes time and effort, and it's associated with many factors, including content quality, relevance, domain authority, etc. 
Apart from app features, do you offer other value-added services?
Of course. SEOAnt has a professional team of SEO experts and web developers who are dedicated to providing guidance to you at any time and helping you fix technical SEO issues. Notably, you can get expert advice and guidance for free. If you need further assistance, such as website speed optimization and troubleshooting, you'll be required to pay a service fee.
Is SEOAnt beneficial to the SEO of my Shopify store?
Yes, absolutely. SEOAnt helps you build a solid foundation for Shopify SEO. By using SEOAnt, you can easily discover what should be optimized and fix a variety of on-page and off-page issues immediately. All these can take your website ranking and organic traffic to the next level!
Can I get a refund after I cancel the subscription?
Sure. As long as you cancel the paid plan within 30 days of the purchase date, you will be issued a refund whose amount is equal to the full refund minus the value of the services that have been completed. 
How can I get discounts and promo codes?
Discounts and promo codes that apply to our SEO app and expert services can be found within our app sometimes. Just install our app, and you'll find them.
Boost your Shopify SEO easily with SEOAnt